A well defined warehousing and supply chain strategy is a critical aspect of business. Many organizations opt to outsource this function in order to drive efficiency and focus on their core operation. However, there are different kinds of warehousing, and it is important to find a supply chain solution that fits your company's needs.
This blog compares two common warehousing solutions – third-party logistics (3PL) and contract operations.
What is 3PL?
3PL is the outsourcing of supply chain management solutions like warehousing, transportation, and distribution. Utilizing a 3PL provider offers the flexibility to pay for the space you need and adjust as your requirements change. Companies that specialize in 3PL are experts in supply chain management and possess technology, engineering expertise, and resources to minimize service interruptions and drive efficiency.
When you work with a 3PL provider, you eliminate the need to invest significant amounts of capital into warehouse real estate or fixed assets like racking and material handling equipment (MHE). Another benefit of a 3PL provider is access to a warehouse management system (WMS) that drives efficiency and product visibility, which further reduces expenses. However, the WMS functionality cannot be customized as it is a shared resource among other companies utilizing the 3PL. Similarly, tenants share MHE, personnel, and may have to compete for dock appointments. Rates can also fluctuate with each new service agreement.
What is a Contract Operation?
A contract operation provides your company with guaranteed, dedicated space and resources in a facility run by a supply chain solutions company. Contract operations reduce costs, improve operational performance, and eliminate limitations associated with 3PL warehousing.
The challenging task of recruiting, training, and managing experienced and reliable personnel is executed for you. In addition, facility location, racking layout, MHE, and the WMS technology can be tailored to your company's needs, delivering efficient logistics operations at an affordable cost. Companies can also schedule dock appointments without availability concerns.
However, contract operations offer less flexibility if your space needs fluctuate. Service agreements and rates are locked in for the duration of your contract.
Here is a simplified comparison of what each option has to offer: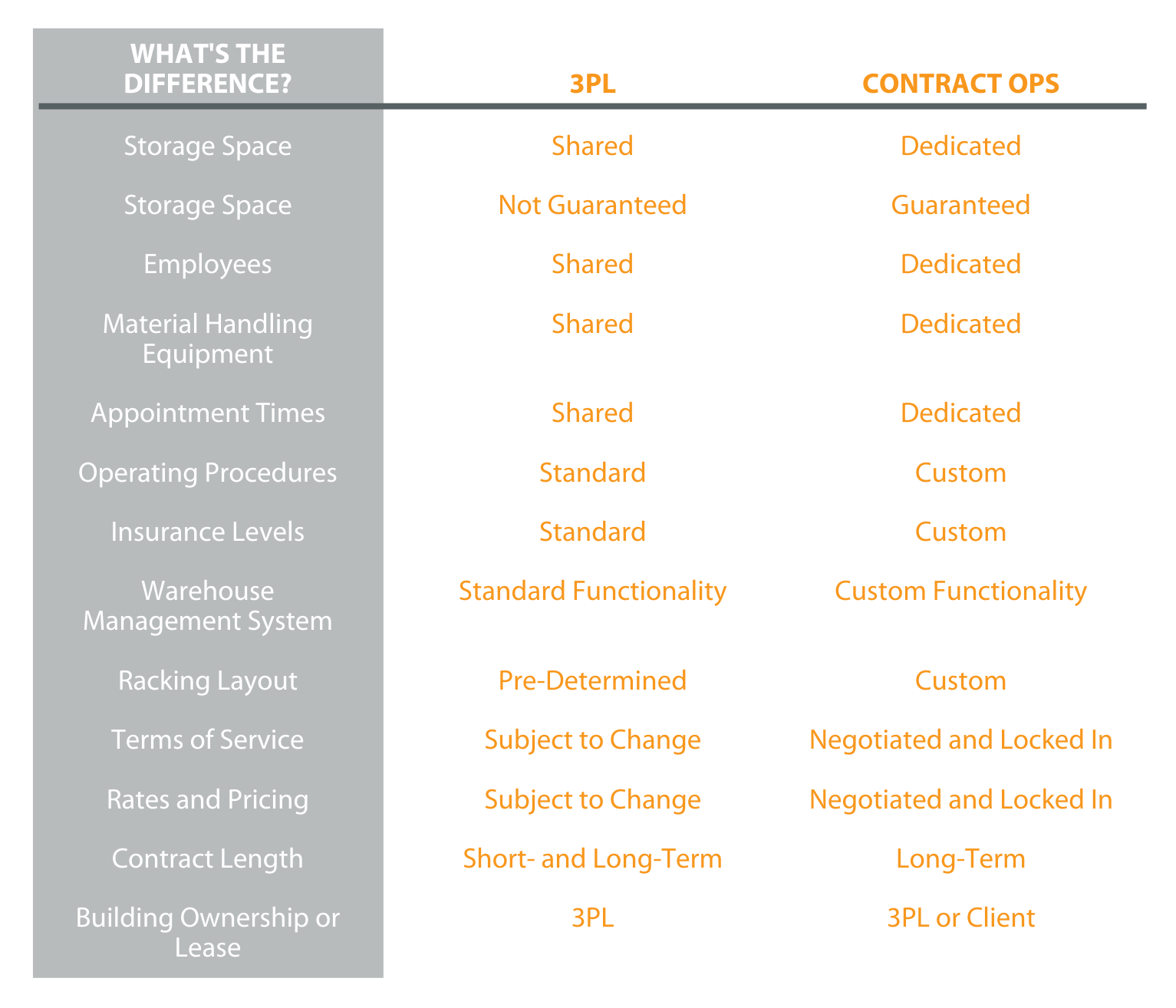 Finding your Solution at WOW Logistics
Once you identify your needs and select the best warehousing solution, the next step is locating a top-tier supply chain solutions provider. WOW Logistics offers superior contract operation and 3PL services with unparalleled food safety standards. We are experts in warehouse operations with industry-leading capabilities, including a state-of-the-art warehouse management system, key performance indicators, and engineering resources that drive efficiency and reduce expenses.
Contract operations and 3PL services are just two supply chain solutions in WOW Logistics' portfolio. We also provide inventory financing, real estate development, transportation, and consulting services.
Get started today by calling 800-236-3565.
Explore our website to learn more.