Defining Fourth-party Logistics
Fourth-party logistics (4PL) companies interface between their client and multiple logistics service providers – directing every moving part within a supply chain, including third-party logistics (3PL) and transportation suppliers. 4PL service providers are a strategic partner to their clients that strive to drive supply chain efficiency.
Benefits of 4PL Providers
Effectively managing a supply chain is no easy task, especially in today's ever-changing climate. When it comes to logistics, many businesses find outsourcing is the most successful approach. Contracting a 4PL provider offers multiple benefits, including:
Competitive Storage Solutions – Logistics providers are experts in their field with resources and connections to negotiate competive prices with adequate insurance coverage.
Geographic Reach – A 4PLs existing 3PL network reduces the time it takes to check storage availability and offers a trusted solution to efficiently extend an organization's reach.
One Point of Contact – A 4PL provider takes over a business's entire logistics segment – eliminating the need to juggle multiple invoices and points of contact.
Here is a simplified visual of what 4PL has to offer: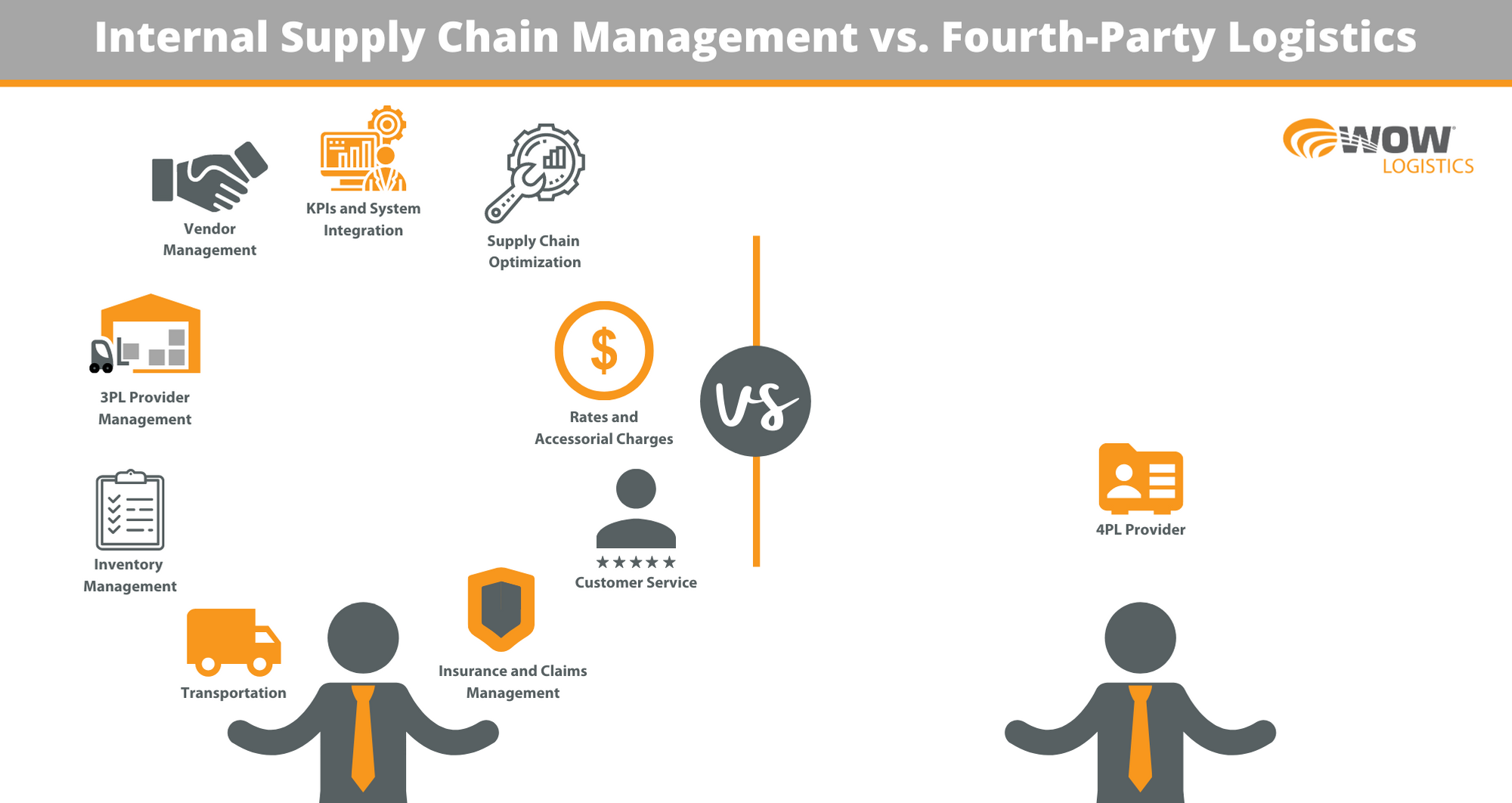 WOW Logistics' 4PL Solution
WOW Logistics is an integrated supply chain solutions provider offering Managed Warehouse Services, our 4PL service. We are experts in warehouse operations with industry-leading capabilities, including a state-of-the-art warehouse management system, exceptional operational processes, and engineering resources that drive efficiency and reduce expenses. WOW has built a database with hundreds of warehouse partners across the country.  This network, combined with our knowledge of operations and market conditions, allows us to provide competitive rates and find space quickly. Outsourcing your warehousing to us leaves you with one point of contact and one invoice for your entire 3PL network.
Managed Warehouse Services is just one warehousing solution WOW Logistics offers. We also provide 3PL services, inventory financing, and technology solutions.
Get started today by calling 800-236-3565.
Explore our website to learn more.